Workshop on"Good Practices for Disaster Risk Management of Cultural Heritage"
UNESCO Chair Programme on Cultural Heritage and Risk Management
Workshop on"Good Practices for Disaster Risk Management of Cultural Heritage"
Organized by Institute of Disaster Mitigation for Urban Cultural Heritage, Ritsumeikan University (R-DMUCH) and International Centre for the Study of the Preservation and Restoration of Cultural Property (ICCROM)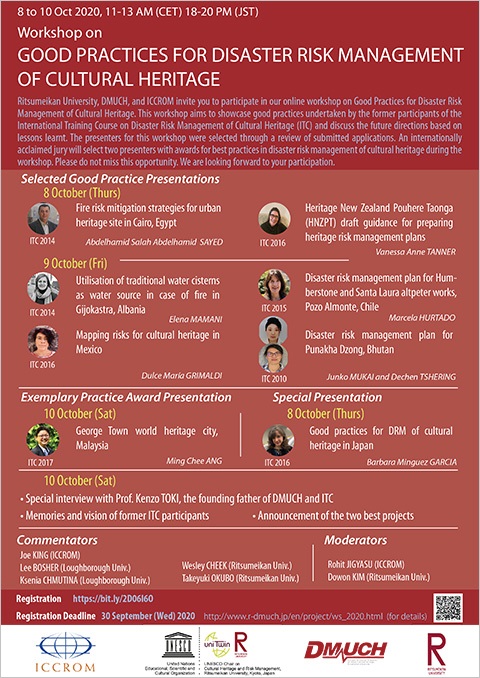 1. Dates,Times and Workshop Platform
Dates: 8th to 10th October, 2020
Times: 11:00-13:00 CET / 18:00-20:00 JST
Workshop Platform: Zoom
The workshop will be opened to the public.
※Please see the end of this page for the registration link.
2. Outline
Ritsumeikan University in collaboration with ICCROM established the International Training Course (ITC) on Disaster Risk Management (DRM) of Cultural Heritage in 2006. Since its establishment, we have organized this annual course of the UNESCO Chair Program for 14 years. To date, 152 participants from 62 countries have attended the course. Currently, many of the participants are internationally contributing to the DRM field by utilizing knowledge and skills which they learned from ITC.
This year, COVID-19 pandemic has affected not only peoples' lives but also cultural heritage. Unfortunately, ITC 2020 has also been canceled because of COVID-19. Therefore we have been implementing alternative projects for this year. We successfully completed the webinar Series on Capacity Building for Disaster Risk Management of Cultural Heritage: Challenges and Opportunities in Post COVID times on 27th June and 4th July 2020.
In our next activity for this year, we invite you to participate in the Workshop on "Good Practices for Disaster Risk Management of Cultural Heritage" meant for our former ITC participants. The workshop aims to showcase good practices on disaster risk management of cultural heritage undertaken by the former participants and discuss the future directions based on the lessons learnt. The presenters for this workshop will be selected through review of submitted applications. An internationally acclaimed jury will select two presenters with awards for best practices in disaster risk management of cultural heritage. The presenters of selected best projects will be invited to Japan for ITC 2021 as resource persons. All the projects presented during the workshop will be showcased on the websites of R-DMUCH and ICCROM.
We also hope that this workshop will provide feedback for future improvement of ITC and further strengthen the networks among ITC alumni and resource persons.
We are looking forward to your applications and meeting you during the next workshop.
3. The nominees for the "Best Practice Award"
・Abdelhamid Salah Abdelhamid SAYED (ITC 2014, Egypt)
・Dulce María GRIMALDI (ITC 2016, Mexico)
・Elena MAMANI (ITC 2014, Albania/Greek)
・Junko MUKAI and Dechen TSHERING (ITC 2010, Japan/Bhutan)
・Marcela HURTADO (ITC 2015, Chile)
・Vanessa Anne TANNER (ITC 2016, New Zealand)
・Ming Chee ANG (Exemplary Practice Award, ITC 2017, Malaysia)
4. Registration to participate as an audience
Registration Deadline:30th September (Wednesday), 2020
※The Zoom link will be provided to you few days before the workshop
6. Programme