Global COE Program for Education, Research and Development of Strategy on Disaster Mitigation of Cultural Heritage and Historic Cities
Message from the Global COE Program Research Team to Victims of the Great East Japan Earthquake
The Global COE Program research team would like to express their heartfelt condolences to all those who have been affected by the Great East Japan Earthquake.
The unprecedented series of natural and man-made disasters that hit Japan on March 11, 2011 took away a huge number of precious lives and properties in the space of a few short minutes, and has also left many communities with the grave problem of radiation contamination extending into the future.
However, it is an undeniable fact that the Japanese people have faced any number of trials throughout our history, and we have always recovered and rebuilt our lives.
In this recent disaster, many historical towns and cultural properties suffered great damage. These cultural assets are the heritage not only of the Japanese people but also of the entire world. Their loss represents the loss not only of some of the foundations of Japanese culture, but also the physical embodiment of cultural activities that have survived down through the centuries in our communities: nothing less than the loss of history and memory, the things that make us what we are, the emotional and spiritual pillars underpinning our existence.
In view of this, as well as lending our efforts to the rescue and restoration of all areas affected by disaster, we consider it our duty to future generations to help restore the precious cultural heritage that formed so precious a part of our communities, including sites that suffered only partial damage and escaped total destruction, using all the painstaking effort and time necessary. We have to understand that a vital part of our work is also to help advance strategies that will reduce the risk of such damage and destruction to cultural properties happening again.
The Global COE Program Research Team for "Education, Research and Development of Strategy on Disaster Mitigation of Cultural Heritage and Historic Cities" intend to do all we can to work for and support these efforts. We believe that protecting the past as something precious is intrinsically linked to protecting the possibilities of the future.
We pray for the safety and security of all those who have been affected by this disaster, and that peace of mind may be restored to them with all speed. We also wish to express our firm commitment to make every effort to protect and preserve the cultural assets and historic streetscapes that history has bequeathed us, and ensure that the future that awaits us is filled with interest and beauty.
We ask for your understanding, cooperation and help in extending the networks of people working for cultural heritage disaster protection and mitigation and disaster preparedness in our historic towns and cities.
Global COE for Education, Research and Development of Strategy on Disaster Mitigation of Cultural Heritage and Historic Cities
Mental and spiritual activities are what mark us as human beings. The cultural heritage that we receive, maintain and pass down to our successors is the irreplaceable trace of our humanity and integral, precious components of a society's foundation. People have established an elaborate network of institutions for preserving the world's cultural heritage sites, but systems for protecting them from major disasters are still in their infancy. It is relatively rare, however, for researchers in disaster prevention science to study issues pertaining to protection of cultural heritage. The 21st Century COE (former COE) fused science and culture and took a leading role in establishing the science required to mitigate the impact of disasters on humanity's cultural heritage.
The objectives of our Global COE are to implement advanced education and research for the protection of cultural heritage and historic cities that have them, to develop these concepts on an international scale, as well as in Japan, and to nurture professionals capable of leading efforts to preserve human cultural heritage world-wide.
The Kinki region, centered on Kyoto and Nara, is just one of areas in Japan with a high concentration of cultural heritage that experience frequent earthquakes. Seismologists predict increasing seismic activity over the next 50 years and, because of recent spreading of urban area with high density and many traditional flammable buildings, Japan's historic cities and cultural properties face a critical situation of earthquake-triggered fire. Meanwhile, little is being done about cultural heritage's vulnerabilities to major disasters, both in Japan, and the world. Japan has a large number of historic cities, and world-wide, more than 660 sites including many historic cities have been inscribed on UNESCO's List as World Cultural Heritage. To protect these cities, local, national and international governments need thousands of experts trained in methods to protect cultural heritage from disasters. Another no less urgent need is the training of young researchers to promote disaster-prevention studies. Consequently, an institute that makes direct international efforts is indispensable.

The former COE Program already has had a leading international role and been recognized as the only one UNESCO Chair holder for conducting the training course on mitigating the effects of disasters on cultural heritage sites and crisis management. It has had an active agenda, mainly involving the historic city of Kyoto.
The Program's center identifies issues and conducts basic research on mitigating disaster damage to cultural heritage. Researchers at a global COE must consider research objectives in all their aspects, from artistic works associated with a site to the surrounding environment, and the relationship to other historic cities around the world by utilizing a holistic, comprehensive approach to the historical milieu. The science for mitigating the impact of disasters on human cultural heritage calls for results that are practical, widely applicable and the development and dissemination of educational programs. The followings are mandatory goals:
Producing persons who can contribute to society as experts or as young researchers in the field.
Research and Development (R&D) of universally practical, applicable technologies for mitigating the effects of disasters on cultural properties and their environments.
International contributions to education and research related to mitigating the impact of disasters on human cultural heritage.
<Research>
In the study of protecting historic cities' heritage sites, four research projects have been designed as part of the new science for mitigating the impact of disasters on human cultural heritage:
Assessing the Values of Cultural Properties and their Vulnerabilities (Cultural Heritage and Vulnerability)
Traditional Procedures for Mitigating Disasters (Historical Disasters)
Disaster Mitigation Technologies for Preserving Cultural Values (Disaster Mitigation Technologies)
Comprehensive Planning for Disaster Mitigation, Emphasizing Cultural Heritage (Disaster Mitigation Planning and Policy)
Culture and engineering experts will participate in these projects. A management team will oversee the expansion of project results to applications for other historic world cities, and consider possible types of locations and disasters. It will create countermeasures aimed at protecting cultural heritage during disasters, and a universally applicable, practical set of directives that covers everything from artistic works to the surrounding environment.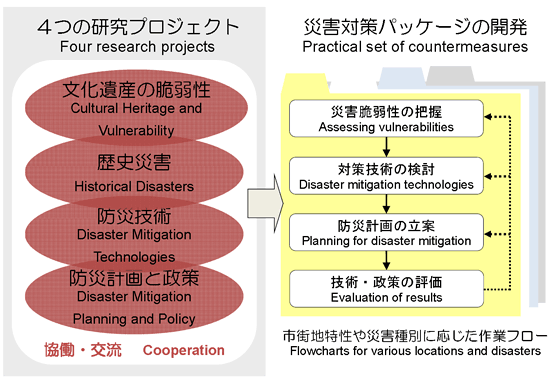 <Education>
There has been almost no educational initiative for protecting cultural heritage from disasters, in Japan or elsewhere; it is an almost untouched field. The curriculum created by the Global COE will serve as a basis for an international advanced education program. It will target members of international organizations and be expanded through practical training courses and courses for researchers. Initially, each relevant school of learning will establish a major in mitigation of the impact of disasters on cultural heritage sites, and proactively enroll Japanese and foreign students from various scientific and cultural disciplines. Students will be required to participate in all four of the listed projects. The goal is to produce young researchers in the engineering sciences who will understand the peculiarities of protecting cultural heritage and can conduct R&D, and those in the humanities who also can understand and carry out research on disaster mitigation technologies.