Virtual Kyoto ―Exploring the past, present, future of Kyoto―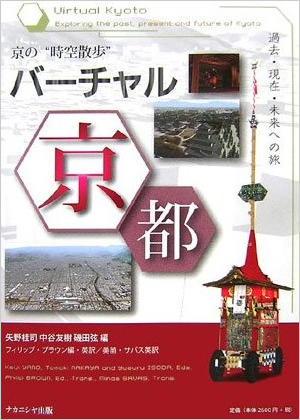 Virtual Kyoto is an innovative 3D maps developed by researchers at the Research Center for Disaster Mitigation of Urban Cultural Heritage that uses state-of-the-art geographic information systems (GIS) and virtual reality (VR) technology to offer a three-dimensional representation of Kyoto. With the addition of the temporal dimension, the map is actually 4D, making it possible to experience the city in a variety of different times—past, present and future.
The book Virtual Kyoto includes accessible explanations of the findings of the various different research teams involved in the research project of creating the platform for Virtual Kyoto, a project recognized by the Ministry of Education, Culture, Sports, Science and Technology as one of the 21st Century COE programs for academic years 2002-2006. Designed to show how VR representation of Kyoto makes it possible to experience the city in an entirely new way.
We are continuing to develop our research for the Virtual Kyoto maps in the new Global COE program (for academic years 2007-2011).
Price
JPY 2,860 (tax included)
Author
Author: Keiji YANO, Tomoki NAKAYA, Yuzuru ISODA, eds.;
English translation and editing provided by Philip BROWN and Minae SAVAS
Publisher
Nakanishiya Shuppan